One of the biggest drivers of the US economy is the construction industry and when it hiccups, the economy nose-dives. In Florida alone, 46,600 construction industry companies employ over 450,000 workers - and 92% of those companies have less than 20 employees. This is small business at its best - hands on owners who are dedicated to ensuring satisfied customers when the job is done.
Everyone in South Florida, and indeed the world, remember the construction industry meltdown in 2007 that many say was the perpetrator of the global Great Recession. You don't have to be an economist to understand that 400,000 workers losing their Florida construction jobs within a few month period will have a debilitating effect on the local economy. This was duplicated around the country where even today, employment in the construction industry is 34% below its peak employment reached in June, 2006
The construction industry is a big pie that is divided into many uneven portions called specialty subcontractors. One of those robust portions is the concrete floor coatings that protect concrete floors in a variety of settings. Concrete is solid but it is very porous and absorbs oil, grease and even water like a sponge. An epoxy coating can seal the concrete and prevent staining but it also makes the flooring aesthetically pleasing.
Janete and Marcus Reis have been a Boynton Beach business around this construction sub-specialty. They launched their business, Select Coatings, in 2002 and have worked side by side since then growing the business and adding more products and more employees. They are a true couple-preneur success story.
FEATURED IN THIS EPISODE
Janete Reis
Select Coatings, Inc. is a family owned and operated company located in Boynton Beach, Florida. We have been serving Palm Beach, Broward, and Miami-Dade counties since 2002. We are committed to quality work, attention to detail and exceptional customer service. These values are instilled in all of our employees, and we continually strive for complete customer satisfaction. Select Coatings, Inc. provides CONCRETE RESURFACING services to homeowners and businesses throughout South Florida. We offer quality workmanship at competitive prices, using top-rated coating materials that are attractive and durable. Whether it's new construction or renovation, interior or exterior, walls, floors, driveways, pool decks, or patios – we've got you covered!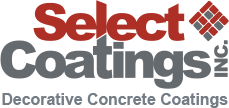 Palm Beach SCORE
Palm Beach SCORE is a non-profit who's mission is helping local small businesses, startups and entrepreneurs grow and thrive by offering mentoring, workshops, business consulting and counseling services, networking opportunities, events and partnerships within the Palm Beach / South Florida business corridor.
SCORE-ing Your Business' host Penny Pompei serves as Chapter Chair for our local Palm Beach SCORE Chapter #224, located in beautiful downtown West Palm Beach.
↑ CLICK ► ABOVE to LISTEN to COMPLETE EPISODE
Key Topics
Manufacturing
Other Services (except public admin.)